Looking around at the other young women waiting for their auditions, I did the two things I do best:  compare and pick.
"Why isn't anyone else sweating? I marveled, discreetly checking under my arms for wet spots. "And why are they all so fucking skinny?"
"Breathe, Mary," I whispered. "Just another audition."
Except this could be my last. One week remained in a six-month, self-imposed deadline for finding an acting job. This audition felt urgent.
"How do all these women look fresh and calm?" I wondered, checking my teeth and lipstick in a compact mirror. I had spent the morning writing news releases for the hotel company that employed me. While I enjoyed my job, acting had been my dream since childhood.
My fingernail scratched the cuticle around my thumb, the lightest touch. Relief.  Like methadone to a heroin addict, my old habit of picking my cuticle brought me a temporary release from the anxiety of the moment.
"Stop picking," I told myself. Except for my torn cuticles, I looked the part of a young mom, exactly what the audition advertisement called for:  national mattress retailer seeking perky, affable new mom type for television spot.
Almost time.
The audition room door opened and a pony-tailed young woman approached me, heels clacking on the tile floor.
"You're up," she reported, eyes never leaving her clipboard.
My lips stuck to my teeth as I forced a smile and walked in to the audition room, fingernail frantically picking at my thumb's cuticle.
Ouch, too far. A pinpoint of blood leaked through my skin and filled my field of vision. Embarrassed, I frantically searched my purse for a tissue and apologized to the casting director.
He handed me a two-sentence script and suggested I take a moment to prepare.
"I can do this," I promised myself. "Breathe."
As the camera rolled, I recited the lines and beamed as the director requested we do a few more takes.
I tried out a friendly mom persona and found a groove; relishing the director's approval and the apparent interest etched on his face.
As I left the audition, hopeful and lighthearted, I felt proud of myself for pursuing my dream. I decided that as long as I was having fun and my cuticles could take it, I would keep acting for at least another month.  Or maybe two.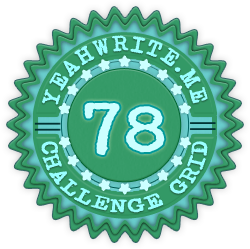 I'm linking up with the wonderful writers at Yeah Write where, fortunately for me, you don't need nice cuticles or a mattress commercial on your resume to join. Check it out!