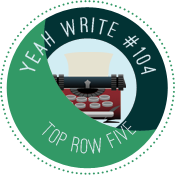 I was good last week. I didn't eat any bread, and I asked my mom to make me a salad with lemon juice instead of dressing, just like the book says. My face still squeezes up at the lemony taste, but the beauty book I found in our basement says I'll get used to it soon.
As long as I keep doing everything the book says, I'll have skinny thighs and be more beautiful in 21 days. Eileen Ford promises. She should know. She wrote the book.  And she has skinny thighs.
Only 15 more days to go.
If I stand on the bathroom counter and bend my knees, I can see my thighs in the mirror. When I looked yesterday, I stood up too fast and slammed my head on the ceiling. Good thing I "have a hard head" as my dad likes to say. He says our house has "low ceilings," but all I want is to see if the leg lifts are doing any good.
I don't see any difference yet.
The pictures in the book make the exercises look easy. I'm supposed to do 45 leg lifts on each side every night. I do 75 so my thighs will get extra skinny. I wish my thighs looked like the pictures in the book. Or like Alison's, my best friend. She's 11 years old like me and her legs are as long and skinny as a grasshopper's. She thinks her legs look like string beans but I think they look perfect, exactly like the legs in my book. I wish my thighs looked like hers.
The book says to eat grapefruit for breakfast, cottage cheese for lunch and broiled chicken with lemon for dinner. We don't have any grapefruits but my mom drinks grapefruit juice every morning before breakfast to help her poop, and I've been drinking it too. I think it's helping, but my mom keeps making stuff like pasta and fried eggplant for dinner and packs me ham and cheese sandwiches and cookies every day for lunch. I wish she would buy cottage cheese.
I throw my lunch out in the cafeteria garbage can every day and drink a bunch of water instead but sometimes I peek at the cookies before I throw them away. Sometimes my stomach growls during art class. I don't mind feeling hungry as long as my thighs get skinny.
I don't know what "thunder thighs" are but I know I have them. Mike Cherback says so. He laughs at me every day in gym. Mom says I have her genes. Not the kind of jeans like my favorite pair with the rainbow stitching up the leg, but the kind you're born with in your blood that give you chubby, hairy legs like mine instead of "slim" legs like the models in my book.
Mom says my legs will grow soon, but I can't wait. I want to be pretty now. I'm gonna do 100 leg lifts tonight. Just to be sure.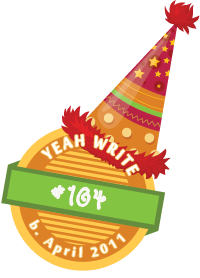 Linking up with Yeah Write this week. Click on the badge to read some wonderful writing from people who have made peace with their thighs. Come back on Thursday to vote for your favorites.