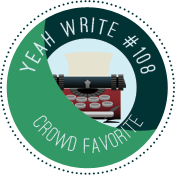 Cuddled on the couch with my boyfriend, his sturdy chest a pillow for my head, I was enjoying a lazy Sunday morning reading the The New York Times and licking Cinnabon frosting residue from my fingertips. Sedated by the sunshine and carb overdose, I felt all shades of happy, the two of us the picture of young, uncomplicated love.
Life was good. My new job was proving to be challenging and promising, my relationship of four months, steady and fun, and most importantly, my previously too tight jeans, loose and comfortable, the result of a bonus new relationship weight loss. I had it all.
"I've read this article on Iraq invading Kuwait twice, and I have no idea what I just read," I said.
"I told you Cinnabons were dangerous. All that sugar is rotting your brain cells," he replied.
"Do you even know where Kuwait is?" I said.
"I did before I ate those two buns."
Laughing, I enjoyed his warm embrace and scratchy day-old beard on my cheek.
"God, I love you!" I said.
I gasped aloud as his body stiffened and my breathing stalled. Did I just say that out loud?
Several moments passed as I registered the horror of my words. Denied an exhale, my lungs burned and the hairs on my arms stood up in declarations of danger.
Maybe he hadn't heard me.
"Thank you," he whispered.
Oh, he heard. Shit!
My mental tailspin was as immediate and unstoppable as a bullet tearing through flesh. I'd done it – used the "L" word first. It was a rookie mistake, and I no longer qualified as a rookie.
"I meant to say, 'I love this.' This. Spending  Sundays with you. This," I stammered. My face grew red as my discomfort expanded in lockstep with my lie. The moment for me to shut up was right then.
"I love this too," he said, his tone imperceptible to my ear.
The sound of blood rushing in my head blocked out everything except the wall-rattling, soul-jarring noise of the El train rumbling past my apartment at its appointed quarter-hour. I couldn't turn around, couldn't look at him. If I'd had a bookie or any savings, I would have placed a substantial bet then and there on the outcome of our relationship.
Hey, Ace, put ten grand on Over Within a Month to win, place and show.
Instead, I erupted in uncontrollable giggles, either from lack of oxygen or complete humiliation. Or both.
Without turning to face him, my back still against his chest, I announced, "Yes, I said I love you, and now that it's out of my mouth, I want to take it back. But I can't. So deal with it."
His response? A deep laugh and a bear hug.
There, I thought. Now we can move on. Right?
I would have lost my shirt on Over Within a Month. Turns out, Two Weeks was the winning bet.