The handsome face of a former crush stared at me from the pages of a glossy home and garden magazine. The four-page spread featured his impeccably decorated home and equally stunning wife and young children.
I gripped the magazine and reflexively sucked in my stomach as the nail technician buffed the calluses from my foot, oblivious to my shock. It was impossible to breathe and read in unison; devouring the details of his life took precedence.
I had fallen hard for him that summer years ago, and this airbrushed flashback hurt my eyes.
We worked for different companies on the same floor of a downtown office building. I ran into him, literally, rushing to the elevator and narrowly missed dousing him with decaf. The delight in his bright blue eyes grabbed my attention first. Surprised at my unusual fortuitous timing, I apologized and stared. He smiled and introduced himself, his eyes never leaving mine.
I glowed for days.
Over the next several weeks, we flirted and created excuses to run into each other, steaming up the hallways and rumor mills. I felt exhilarated and alive; miraculously blessed with good hair and a shine-free forehead.  When he finally asked me to lunch, I wondered about the delay. I fantasized he was wary of a work romance or coming off a break-up.
After a lunch of juicy burgers and witty conversation, he asked me out for Friday night. I floated to my cubicle with the words, "I have a boyfriend. I have a boyfriend!" ringing in my head.
Five discarded outfits and 18 breath mints later, we walked hand in hand to a restaurant near my apartment, giggling and sharing stories. I was charming and delightful; he was smart and funny and made me feel the same.
After dinner, anticipating our first kiss and wishing for another mint, we sat on a park bench and he pulled me onto his lap. "I really like you and am completely attracted to you," he sighed, "but I have a girlfriend."
"Huh?" was all I could manage.
"I thought you should know."
Do I get off his lap now? I wondered.
"Oh," I stammered. "Um, thanks for telling me."
We walked the last few blocks in silence. At my front door, he reached for my hand. "What are you doing now?"
"Going to bed," I replied.
"Alone?" he queried.
"Goodnight," I said, my confusion not yet yielding to the anger and hurt churning my insides.
The following Monday, after a puffy eyed, pity-party weekend, the elevator doors opened to reveal my crush, arm in arm with a gorgeous, long-legged beauty.
"Honey, don't forget to pick up our wedding rings," she purred as they walked past, the enormous diamond on her finger clouding my vision.
Stunned and embarrassed, I looked away and silently urged the elevator doors to close. Or swallow me up.
"Poor girl," I thought, discarding the magazine in favor of the latest People. "I'm going with OPI's Sheer Luck on my toes today."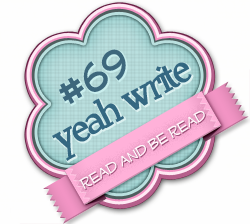 I'm once again linking up with Yeah Write for Week Six of their Summer Writer's Series.